Our friends over at Primal Alchemy Catering in Long Beach are well-knowns as Southern California's premier organic caterer. The specialize in organic and sustainable food that is as creatively prepared as these unique bamboo trays that were wrapped here at Iconography Studios for one of their events in Long Beach, CA.
Project: Custom Graphics on Bamboo Catering Trays
Client: Primal Alchemy Catering
Location: Long Beach, CA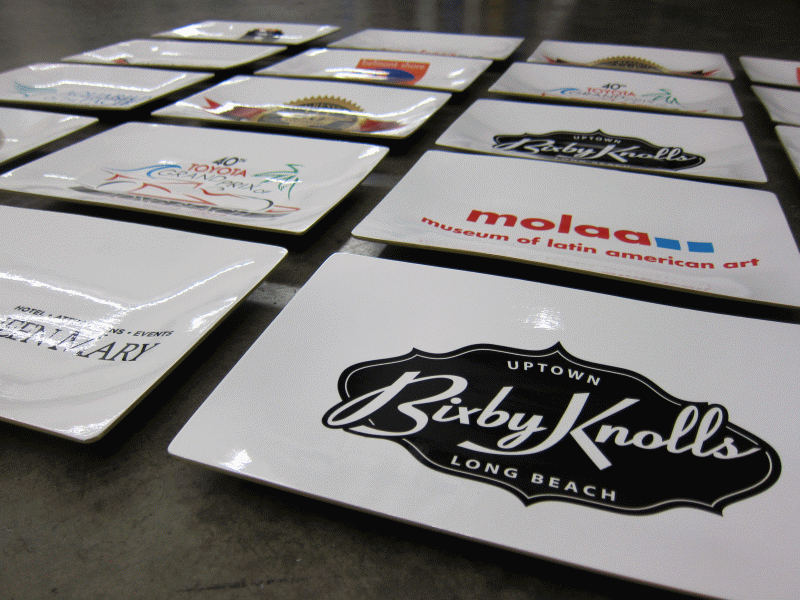 This is one of our favorite type of projects – to take a somewhat ordinary item and turn it into true "form meets function" piece of art.  Just about any type of item can be wrapped with graphics, provided the surface of the item allows the adhesive-backed vinyl material to properly adhere. Most painted surfaces, metals, laminates, glass, and some plastics can easily be wrapped. Porous plastic surfaces are the typical exception, as the vinyl material simply won't stick.
These bamboo passing trays for Primal Alchemy were custom wrapped for an event in Long Beach, with each tray receiving a different image based on iconic logos representing well-known Long Beach businesses and organizations. The process for wrapping the trays is very similar to that of a vehicle wrap, or any other wrap. There are 3 basic steps to wrapping any item:
1. DESIGN – the first thing that needs to be done is a design concept. During this phase, proofs are created, revised and finalized. Once conceptual proofs have been finalized and approved by the client, the process of building the art files begins. The art files are the files that will  be used to print or produce the final design onto the material for wrapping. Designs for most wraps can include graphics, photos, text and logos.
2. PRODUCTION – this phase may include large format digital printing, laminating and/or machine-cutting vinyl on a plotter depending on the design and how the wrap is going to be installed and on what type of surface. Photos and graphics that include several colors or gradient designs will be digitally printed and them laminated to protect them against minor scratching and UV fading.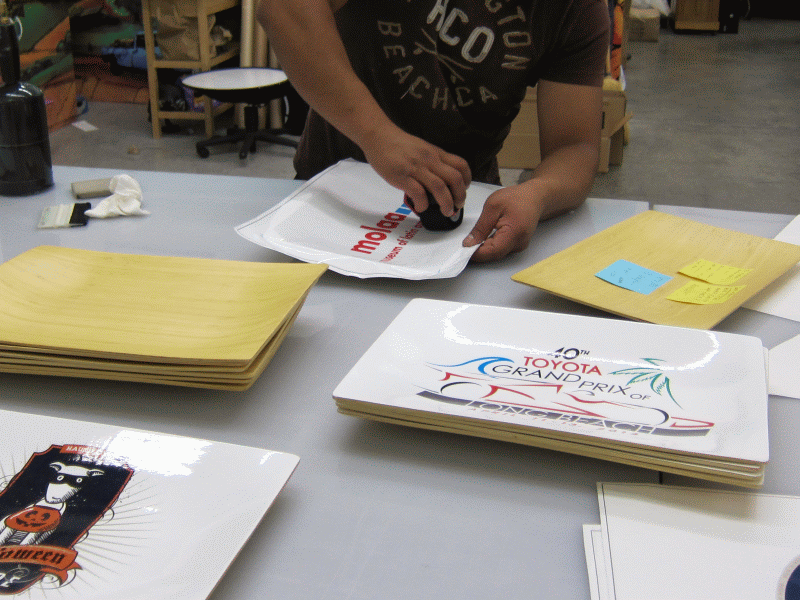 3. INSTALLATION – during this phase your adhesive-backed vinyl is expertly applied to your car, tray, or other speciality item. The difficulty and complexity of the item to be wrapped depends on the size and shape of the item. The easiest installations are on large, flat surfaces, such as walls and box trucks. The smaller the item is, or items with lots of curves and angles are much more difficult. But no matter how difficult, we can do it – from accordions and violins to mailboxes and library bins – there's not much we can't wrap!
Have something out of the ordinary that you'd to have wrapped, but not sure if it is possible? Give us a call and we would be happy to advise you. Our design and installation teams are experts at determining the best materials and designs for wrapping odd-shaped and unique items. In fact, these are our favorite types of challenges! Give the experts at Iconography Studios a call today at 714-527-5424!