Every business wants to have vibrant, eye catching graphics that command attention, but with so many different types of advertising, it's difficult to choose which routes to go. In a society connected by likes and views, out of home advertising is a valuable tool that surrounds your target audience in their preferred environment, and can't be skipped or blocked.
According to Out Of Home (OOH), "to reach 1,000 people, online can cost up to $17.50 per thousand impressions and magazines up to $21.00 per thousand. At $3.38 – $8.65 per thousand impressions, out of home advertising delivers the same audience at significantly lower cost." The Outdoor Advertising Association of America (OAAA) states that mobile advertising is the most efficient, effective method of out of home advertising. Because mobile billboards travel, they can reach areas of town where other forms of media can't. Since drivers on the road are not distracted by cell phones and other daily tasks, striking fleet graphics have the capability of capturing your audience's full attention. Just one truck wrap can put small businesses on the same level as companies that maintain entire fleets.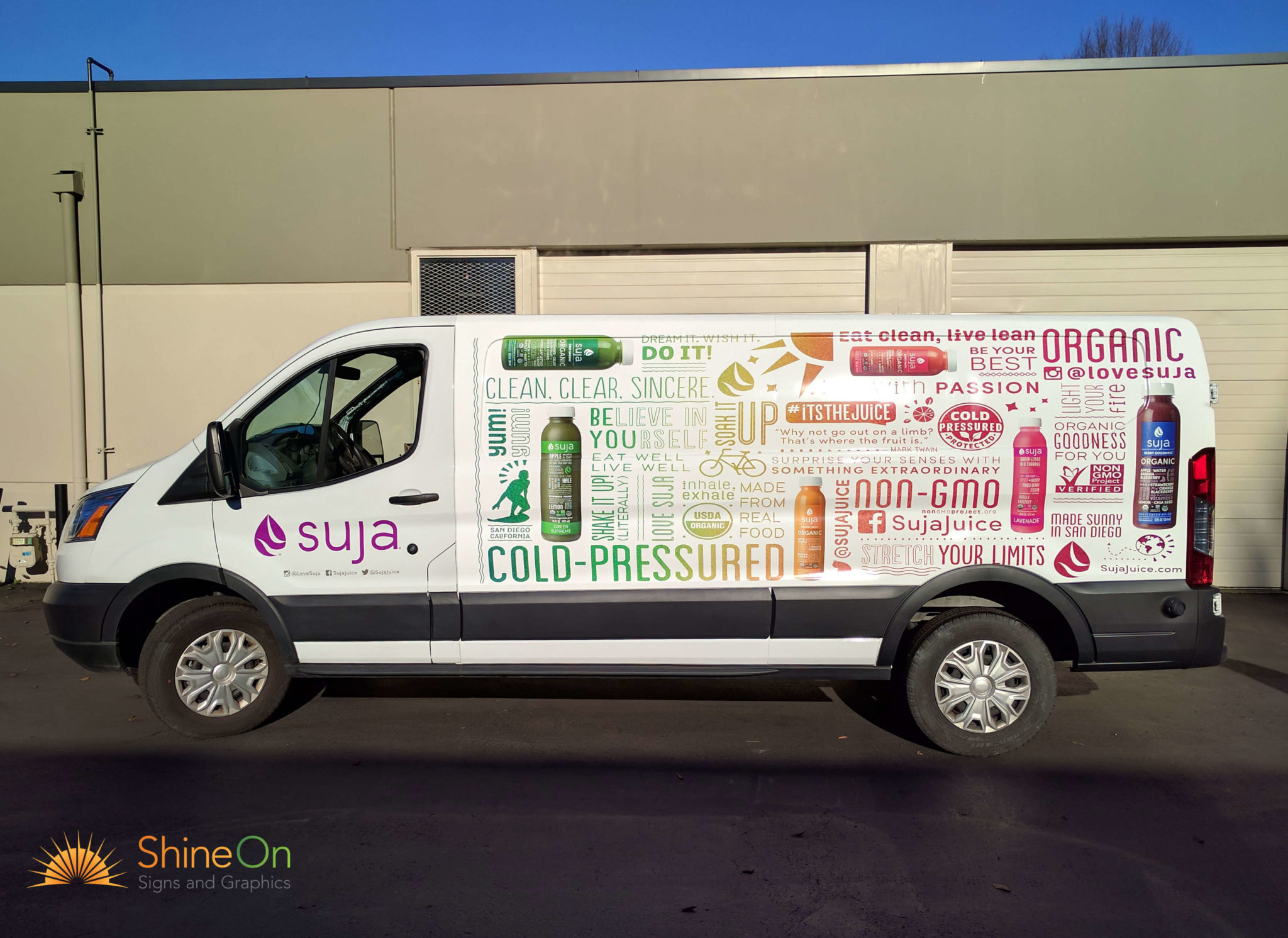 So how do you go about creating your mobile billboard? You have two options: paint or vehicle wrap.
In the past, creating your custom mobile advertisement required a custom paint job with airbrushed graphics. This will quickly deplete you of valuable time and money if you're lucky enough to find someone capable of doing the project correctly in the first place.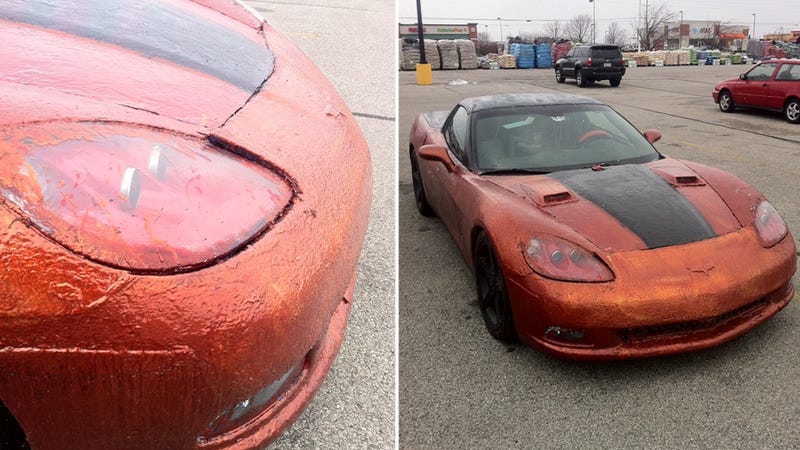 (image from jalopnik.com/)
Today, you can acquire the same results with a vinyl car wrap. Technology has created an outlet for designers to produce digital artwork that is then printed on heavy-duty vinyl able to withstand the environmental abuse. Advanced printing technology allows car wraps to sport colors, patterns, and designs at an accuracy that paint can't compete with.
Time
Painting a van or truck necessitates a specific process and numerous steps. From disassembly, sanding, smoothing, priming, and taping to multiple steps of immaculate cleaning and finally painting and clear coat, your truck will be in the shop for at least two weeks. With two or more colors, the job may take even longer. Can your business afford to be sans-transportation for that long?
Like painting, there are quite a few steps involved in creating truck wraps. However, the design process is done on a computer, and you keep your vehicle until the truck wrap is printed and ready for installation. Installing your wrap takes 1-2 days, so you can hit the road and start advertising your business right away!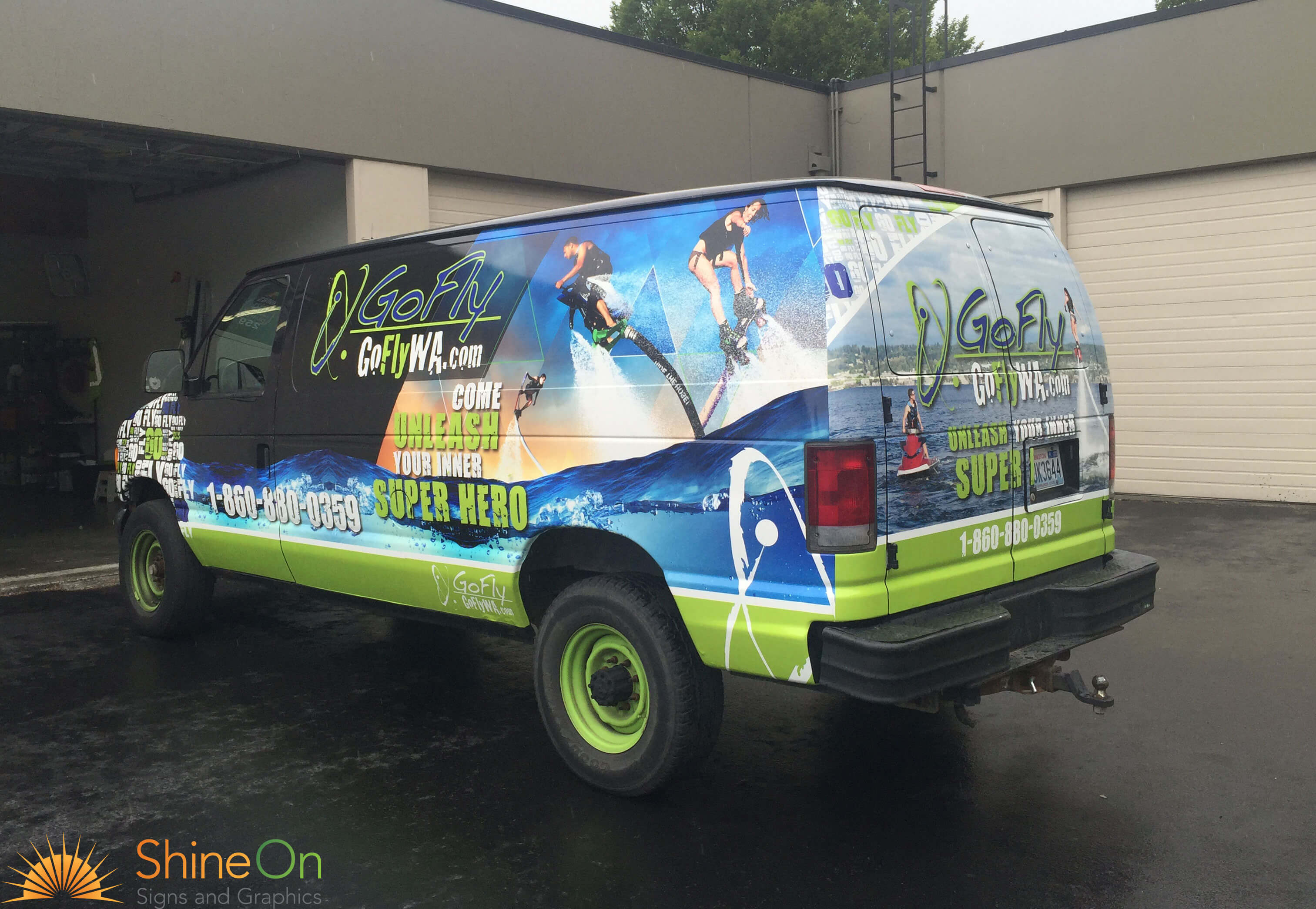 Durability
Say you're driving your company van, showing off your new look. The tiniest piece of gravel recoiled from a car ahead of you can scratch and destroy your brand-new paint job in a single second. If you're lucky enough to avoid major visible scratches, you'll still need to worry about protecting your paint from harsh environmental factors such as ultraviolet radiation, pollutants, and other chemical residues that contributes to the inevitable: fading paint. The process for protecting your paint job includes covering your van when not in use, washing at least every two weeks, and waxing.
(image from http://www.onallcylinders.com)
Van wraps are extremely durable. The vinyl used to wrap is similar to the material used on billboards, but with additional laminated protection on top to protect your van wrap from UV rays and other environmental damage. Because of this laminate, fleet wraps resist fading and oxidation, and the vinyl is dense with a little give, so it can handle nature's attempt to scratch and chip your beautiful design. No waxing or special tasks are necessary: a simple wash with soap and water is all you need to keep your wrap healthy! On the off-chance one of your fleet wraps needs a fix, all it takes is reprinting and reinstalling that section of vinyl, making repairs easy, fast, and affordable.
Rebranding
Changing up your look? Simplifying? Ready to retire and sell? There's no way around it; if you go the paint route, you'll need to go without your vehicle for another few weeks to be completely repainted. Wraps, however, can be easily removed in a couple of hours, with the original paint looking just as good as the day you had your wrap installed, thanks to the protective vinyl. This makes wrapping leased vehicles possible, and allows for options like small-panel wrap sections, or even a completely new look!
(image from perfectwraps.com)
Shine On Signs and Graphics is a leading manufacturer of high quality and can deliver all of your signage needs. We specialize in full project management and use only the top of the line materials. Download our free vehicle graphics e-book and contact us today for a free quote!